Day 5 - Grand Caymans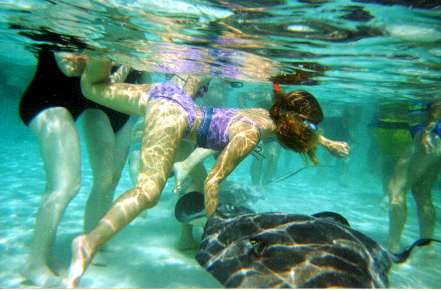 8:15 we departed on the Sting Ray City Tour. Not to
be missed. They boat you to a sand bar around 3 miles from shore where you stand in waist deep water and feed sting rays pieces of squid from your hand. It is an unbelievable experience. A must do.
At 12:00 we walked from the Sting Ray City boat dock to the Beach Club Colony (around 3 blocks). We stopped on the way for an ice cream cone--it was $7.50 (and they would not give me change in American dollars!)! What they say about high prices in Grand Cayman is very true.
The Beach Club Colony is a resort that allows cruise ship people on their beach. Of course it costs $5 to get on their beach, and another $5 for an umbrella. They pack you in like sardines--5 rows of chairs all next to each other. The water was clear with a sandy bottom. As you looked up and down the beach at the uncrowded sections it looked beautiful. I snorkeled and only saw one fish. I would never come back to Beach Club Colony.
At 2:00 it started to rain and we left Beach Club Colony. We shopped brieflly by the pier on the way out and bought two large rum cakes ($18). I wished I would have gotten more. I'm surprised they did not kick me out for all the free samples I ate (I really pigged out).
At 4:00 they gave out sheets by the pool and demonstrated how to tie togas.
6:00 Italian night in the dining room. Waiters sang O-Solo-Mio (forgive my spelling).
The 9:00 PM show Flashback was excellent. Great talent. They sang music of the 50's - 90's. The comedy juggler that followed was also excellent.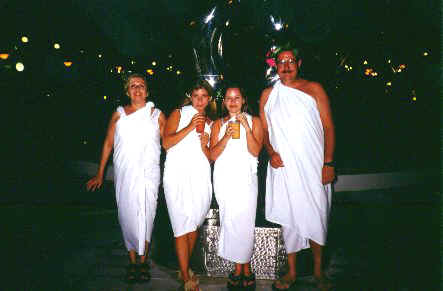 11:00 Toga party. Not to be missed. How often do you see 100-200 people in togas doing a chain dance around the pool. A small buffet was also set up by the pool.
next