Day 4 - Day at Sea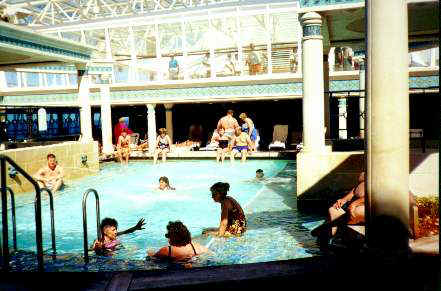 At 8:00 AM I was the first person in the Solarium pool (By 10:00 all good seats were taken). No kids under 12 are allowed in this pool. It is a quiet area nice for sunbathing, reading, and chatting with new people you meet. At 12:00 I took a tour of the ship and walked around every deck, then back to the pool. There is a snack shop by the pool with pizza, hamburgers, and great fries.
6:00 PM was Jamaican night in the My Fair Lady dining room. The waiters did the "Dance of the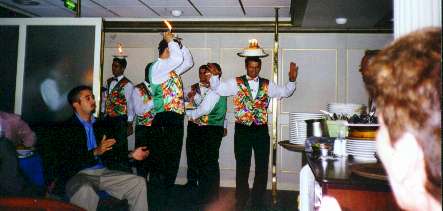 Flaming BaBa-Loos". They had cakes on their heads with lit candles and danced around the dining room. A fun dinner.
9:00 PM was LaRaf (2 magicians) in the Orpheum Theatre. Everyone seemed to like them but me. They use what I call store bought magic--tricks you purchase. I saw no slight of hand or anything that required actual talent.
At 10:15 PM my table won 2nd place in the 50's-60's trivia contest in the Carrousel lounge.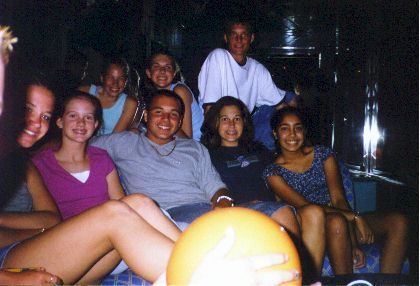 My daughter and her friend often hung out in the teen club. Every night they would have many activities planned for them. One night they had karaoke, another night they had to go in groups (guys vs. girls) with a Polaroid camera in search for the most gorgeous people on the ship. The girls thought that was really fun. All the activities were very fun; they were definitely geared toward their age group. They met many new friends from all over and still keep in touch with them. Also in the teen club they would have free drinks (e.g. non-alcoholic pina colodas), which you don't often see on this ship, and free cookies, sandwiches, and fruit.
next