Day 6 - Jamaica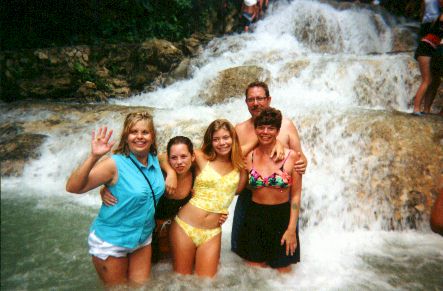 We took the 11:00 AM Cruise to Dunns River Falls excursion. At the pier we boarded a boat with around 40 other people. Cruised along Jamaica to Dunns River Falls. Climbed the falls (took around 1 hour). The few vendors near the falls were very pushy ("Why don't you want your hair braided"!). This is another not to be missed event (the falls, not the vendors). The falls are a bit treacherous at spots (one person from our ship broke his leg here). Cruised back to ship. They served some very strong rum punch on the cruise back and sold hats, T-shirts, Jerk sauce, etc... I purchased my Jamaican mementos here.
At 2:00 I went to the pool and my wife and her friend went shopping in Jamaica. I had heard bad things about Jamaica and was surprised when my wife and Janice said they had a great time. They found a craft bazaar with hundreds of vendors and got the best deals of the whole cruise. They felt the vendors in Cozumel were more pushy than Jamaica.
6:00 - Formal night number two--French Cuisine. We went early and had our pictures taken by the ship's photographer. They came out nice and we ended up purchasing them.
The 9:00 show with the ventriloquist and his 'parrot' was very good.
We continued the evening at the Champagne Bar in the Centrum listening to jazz music.
Made it to the Grand buffet at midnight. It was around 4X bigger than I expected.
next