Day 2 - Key West
From 7:00 to 7:45 I watched the boat approach and dock at Key West. From Deck 10 you can watch the captain below on the left side of the boat as he maneuvers. They can turn these boats on a dime.
Last night we ordered breakfast in the room for today from a very limited menu. It never showed up. We went to the WindJammer. Although I liked the breakfasts here two people in our group were not fond of them.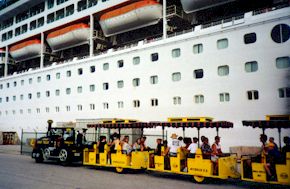 At 9:00 we were on the free train ride to downtown Key West. We walked up Duvall Street and shopped. Not great shopping--mostly T-Shirt shops. If I had to do it again I probably would have done an excursion (snorkeling or glall bottom boat) and skipped the shopping.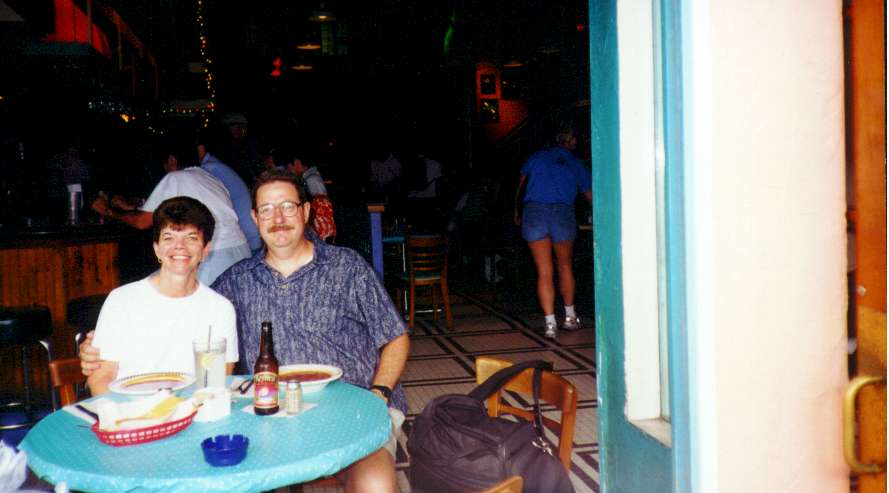 We had lunch in Margueritaville (Conch soup and Key West Ale). I purchased a mask and snorkel across the street from Margueritaville (of Jimmy Buffet fame) at a good price.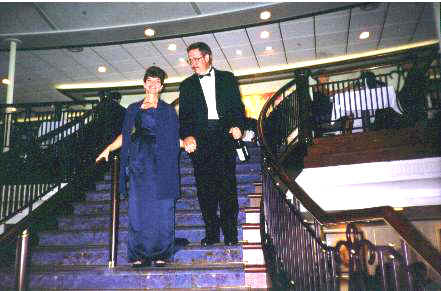 At 2:00 we were back on the ship and at the pool. 6:00 was formal dinner. I had rented a tux (I would say around one out of every five men had one on) and plan to rent one again on our next cruise. We missed the show that night in the theater. At 10:00 we watched the "Battle of the Sexes" in the Carrousel Lounge. 11:00 we went to the Centrum Disco. Danced. 12:00 was the Galley Tour and Galley Buffet (a buffet set up in the galley). Amazing that they make close to 10,000 meals per day on this ship.