RCI Enchantment of the Seas
Western Caribbean
July 2 - July 9, 2000
This was the first cruise for all five of us. Traveling with me (I'm Robin, 44) were my wife Barbara (45), daughter Chelsea (15), my daughter's friend Devin (15), and our friend Janice (Devin's mother, 45). I booked the cruise in October 1999. I was amazed at how few rooms were left at this time. We booked a Category I cabin, # 2538, on deck 2 for my family, and our friends, Janice and Devin, booked the adjacent room. I visited the rec.travel.cruises newsgroup almost daily from September '99 until the cruise. I learned everything I needed to know to plan a great cruise here. Thanks to those who responded to my posts.
We felt comfortable leaving our two 15 year olds roam the ship together. They had to join us for dinner at 6:00 and be in by 1:00 AM (2:00 AM if we did not have to get up early--days at sea). We ran into them frequently around the ship and they sometimes joined us at the pool and shows.
Our cabin steward, Allan, did a great job. Our room was cleaned, made up, and decorated with 'pillow art' twice daily, after breakfast and after dinner. Our waiter, Forlindo, was extremely attentive and did everything he could to see that we enjoyed our meal. Overall the entire staff were delightful. The only negative experience was that that one ship photographer, Andrew, was rude to us on two occasions.
This was our first cruise and we are hooked. It far exceeded our expectations. We will be sailing again and probably with RCI. Our friends just got back from the Carnival Destiny and hated it. We compared notes and the Enchantment seemed like a much better ship in all aspects.
Day 1 - Ft. Lauderdale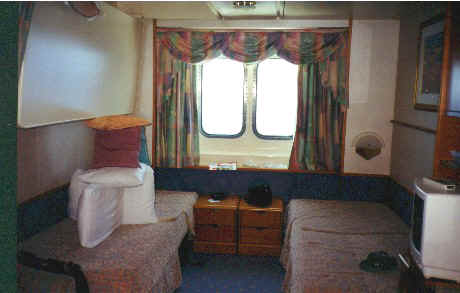 We left Pennsylvania at 7:30 AM arrived in Florida at 11:50 AM (via Pittsburgh). We had purchased the air/sea program. At the terminal RCI met us and we were herded into a lounge to await the bus to the boat. It was around a one hour wait, then a 5 minute bus ride to the dock. The embarkation line took around an hour to get through. At 2:00 we were in our room. We were all pleased with it, small, but well designed.
We went to the Windjammer for a lunch buffet, toured the pools (they were closed the first day), and signed up for excursions. Excursions fill up fast, I recommend signing up soon after you get on the ship at the pursers office. They have forms you fill out and put in a box. Our tickets for our excursions were on our bed that evening.
At 4:00 we went back to the room and unpacked. At 4:30 they had the lifeboat drill.
At 5:00 there was an embarkation party by the pool with dancing. Quite a few people danced to the Electric Slide, Macarena, etc...
6:00 was dinner (early seating) in the My Fair Lady dining room. Casual dress tonight. Prime Rib. Overall throughout the cruise I thought the food was excellent. At all meals there were around 6 appetizers you could choose from (as many as you like), one salad, around 6 entrees (as many as you like), and around 6 desserts (two low-calorie).
After dinner I went to the casino. I had downloaded the game "Super BlackJack" from the Internet before the cruise and brushed up on BlackJack strategies. I played BlackJack after dinner all week and was around $10 behind at the end of the week. Better to almost break even then loose big. I had a lot of fun playing, this was only my second time in a casino. I can see how gambling can be addicting.
The show on the first night is not really a show. There was a 15 minute talk by the cruise director followed by comedian who was on for 30 minutes. The comedian was Janine Gardener--we did not like her.
Map of Key West was on our bed with our excursion tickets for the week (Sting Ray City and Dunns River Cruise) when we returned to our room.

E-mail comments/questions to powlusr@ptd.net